Customer satisfaction is the cornerstone of any successful business and at Specialised Health we are committed to delivering the best possible experience. 
What better way to achieve that, than to ask people how their experience was? 
The Net Promoter Score
Being the data-driven people that we are, we use various tools to collect feedback and measure customer satisfaction. One tool that has been particularly useful for us is the Net Promoter Score (NPS).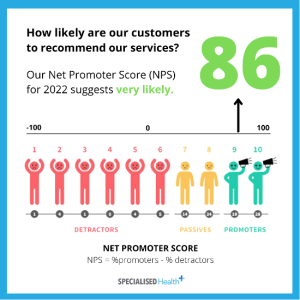 The NPS basically gives us a score in regard to how likely our customers are to recommend us to others. This is powerful, because someone's likelihood of recommending a business says a lot about their experience with said business. Customers only rave to people about great experiences, and they wouldn't tell a friend or colleague to use a service that they weren't happy with. 
By measuring how likely our customers are to recommend our product or service to others, we are able to better understand their level of satisfaction and also, identify things we are doing well in their eyes and areas for improvement.
Diving Deeper Into The Things That Matter 
We also like to dive a little deeper with those who are doing our EP programs. This sort of data collection is key to understanding the actual impact our programs have on our customers' lives. 
Two data points we pay close attention to relate to primary goals we set out to achieve.
a. instilling confidence to make sustainable changes and
b. improving function in daily, recreational and work-related activities.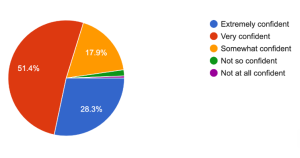 The first image displays responses to "Since completing your exercise program with us, how would you rate your confidence in continuing to complete the prescribed exercises?"

The second image displays the area where all of our customers felt that they experienced  improvements.
It's important to note that we don't just collect data for the sake of it. We use these insights to continually improve our programs and services. By listening to our customers and acting on their feedback, we can enhance their experience and ensure we are meeting their needs. 
Happy Customers, Happy Us!
At Specialised Health, we're all about keeping our customers happy! From the moment you step through our doors, we want to ensure that you have the best possible experience. 
We're constantly on the lookout for ways to improve, and that's where data comes in. By collecting feedback from our customers, we can identify what we're doing well and where we need to step it up. It's all about making sure that our customers feel heard, valued, and satisfied with the services we provide. So come on in and let us take care of you – we've got this!
---
Author: 

Tessa Nielsen


Clinical Exercise Physiologist and Content Creator at Specialised Health

#exercisephysiology #exerciserehab #rehabilitation #lifeinsurance #incomeprotection #ctp #workcover #mobile #mobileexercisephysiology #fatigue #mentalhealth #cancer #musculoskeletal #injury #pain #physio #physiotherapy #Sydney #Brisbane #Melbourne #Adelaide #Auckland #Waikato #BayofPlenty #Wellington #Otago #Christchurch