September has been a busy month for us, with lots of internal changes, old staff, new staff, new locations.
And we're still writing blogs for you, with snippets on Linked In, Facebook and Instagram.
  Yes! They're for you, so please let us know if there are any topics you would like to read more about!
Hopefully you've noticed our videos, too? – What do you think?
Enjoy your scoll down as you see all of our September in one spot.
Some Recent Articles
Pain. It's a natural part of life. But when it's constant, it doesn't feel natural.  To better understand
what goes wrong with pain, let's start with what's right about it.
The impact of a telehealth exercise program for Depression.
Need some motivation and inspiration?  – Don't miss this!
This is a case study disguised as a blog.
It includes an inspirational interview with our Melbourne EP Jen Smallridge, OnePath Rehab Consultant Hannah Dunne, and customer Ben. Plus we have some downloadable PDFs for you as well.
---
Staff Spotlight – September
Location: Rotorua, NZ
Tessa's Ninja Skills
🐱‍👤‍ Mental Health
🐱‍👤 Burpees
Tessa's Faves
🍣 Food –  Anything Asian
💓Exercise –  I love doing HIIT. HIIT of all kinds. It's the ultimate dose of "you can do this" for me personally.
🚀Fact –  There is a mountain on Mars three times the height of Everest!
😃 Fiction –  Up (guilty cartoon pleasure, but so wholesome!)
💪 Myth Buster  –   "No pain, no gain"
In most situations, a well-balanced routine with gradual progression is 100% more beneficial than not being able to walk for days following EVERY leg session.
How did you survive the lockdown, and do you have any tips for the Australians?
Honestly, I baked A LOT and then exercised A LOT because "balance". Although I don't think I quite nailed that balance. . .
Get to know more about Tessa here.
---
Most Social on the Socials
We're posting interesting facts, regular infographics of recent cases -their results and how they got there, and each week you'll meet a new member of our staff.
So far we've introduced about 25% of us!
Favourite Social Media Posts
🥇 First Place – Jen and Ben's 1-minute teaser video
See! That's what we were saying before!
Definitely worth your time, especially if you have mental health customer or a customer where face to face appointments aren't feasible.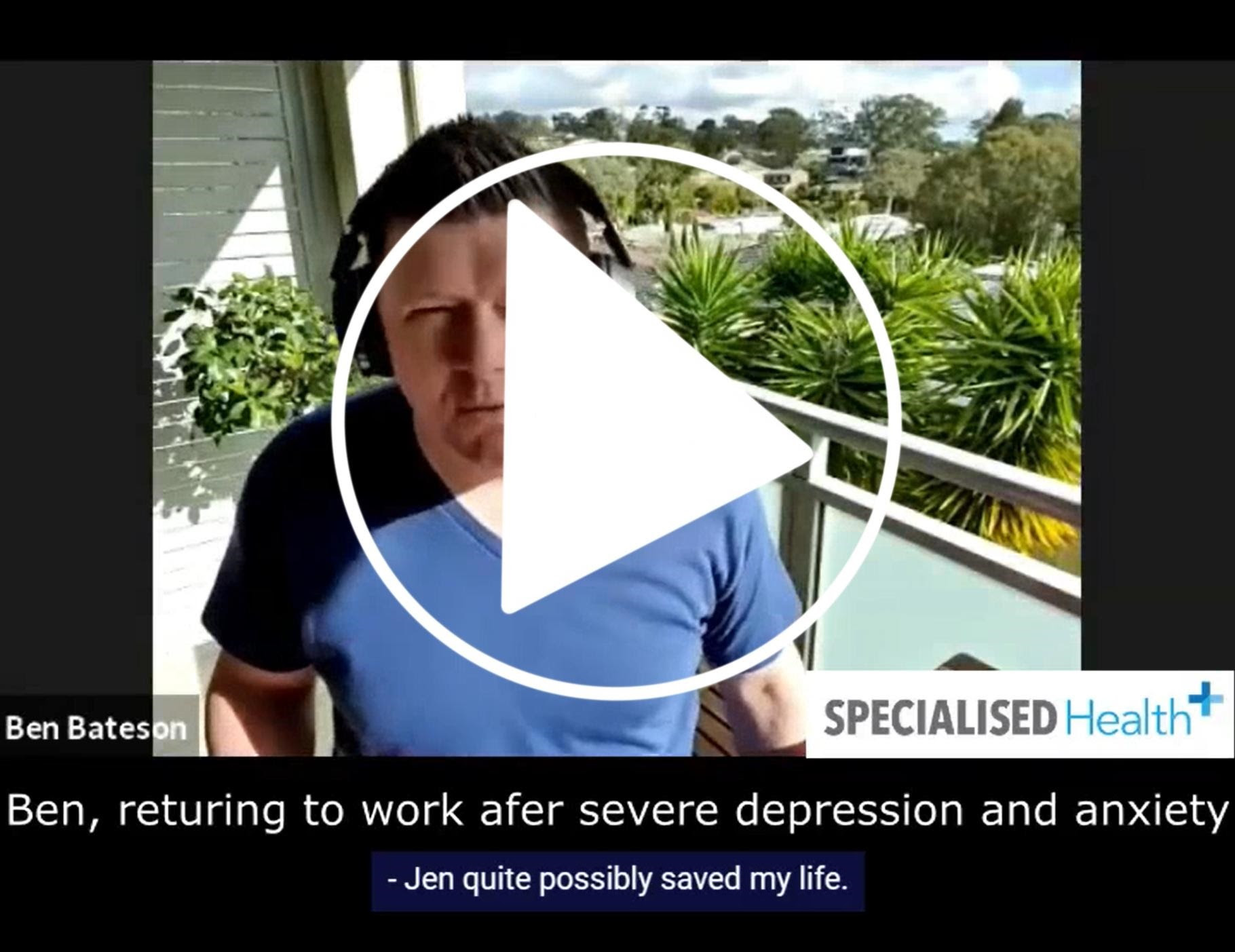 🥈 Second Place – Shara's Win
Shara helped a claimant with an elbow fracture return to work as a handyman.
Nice work Shara! Thanks for being on our team 
🤩 For more Case Study WINS you can search and follow #specialisedhealthwins on LinkedIn, Facebook or Instagram 
It was a close comp! To vote for your favourite post share, like or comment on our posts.

---
Behind the Scenes
We have weekly team meetings and fortnightly roundtables of challenging cases AND we run various clinical in-services regularly as well!
Here's what we've been focusing on:
 Internal Education 
Strategies to assist when anxiety symptoms cause fear in increasing exercise intensity
New research regarding resistance training for mental health
Supporting self-efficacy
HRV use in fatigue management
Assessing pain beliefs
Motivational interviewing to empower the client owning choices and behaviours
Team Focus Areas for September
Brain-storming how to keep travel costs lower
Optimising communications with GPs
Prioritise team work with case managers and rehab providers
Recording case statistics
Focusing on the 6 domains of injured persons (physical & mental health, experience& accessibility, wellbeing, cost of healthcare, safety & quality of healthcare, provider capability, delivery & experience)
 Staff Changes
Welcome to our new Sydney EP, Aidan McFarland – he is covering Western Sydney and comes to use after 5 years of working as a Rehab Consultant, so we are excited to get some more tips on how we can help RCs even more!
Congratulations to Melbourne EP, James Danos with his new role as Senior EP.
NZ EP Tessa Nielen has relocated to Rotorua and has capacity for more referrals in the area!
We said a sad goodbye to NSW Team Manager Ani Parthiban, he's been a critical character in Specialised Health for the last 2+ years and we wish him all the best!
---
Did you know that we have a Sister Company in the Corporate Wellness space?
For up to date tips on optimising health and wellness for yourself, your staff, your friends and your family, follow Reva Wellness on Linked In, Facebook, Instagram and YouTube.