Specialised Health, Behind the Scenes. Who is Specialised Health?
The culture of progression, passion and authenticity behind Specialised Health drives all of us to provide quality Exercise Physiology services in the compensable space. We support claimants in achieving their return to work and life goals through specialist exercise and lifestyle prescription while recognising the importance of open communication with all parties involved in the rehab process. We share knowledge with a passion and are made up of exceptional individuals. 
 STAFF SPOTLIGHT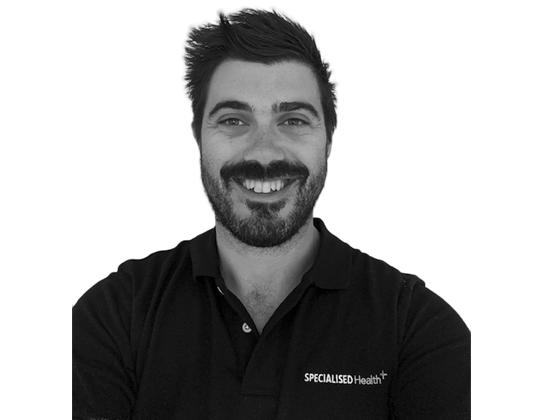 Location: Gerringong, NSW – Covering Wollongong-South Coast
Neville started in this space with a  Bachelor of Mngmt in Sport and Exercise (UTS) then realising the power of Exercise Physiology, completed a Masters in Clinical Exercise Physiology at CSU.
Neville has been with us since February. We're stoked to have him on our team because he came to us with lots of experience in Occupational Health as a Rehab Consultant and IMA after working within various settings from workers compensation to income protection and even some of this in the UK.
🤩 Neville's experience of Specialised Health so far:
 Why did you choose the Exercise Physiologist life?
Initially, as a high school graduate, I was enamoured with the bright lights of professional sport and athletes.
Going through my education and developing my social skills, I started to sense that I could positively impact people's lives at a more local level.
Working in occupational rehabilitation was an avenue towards this path, however, working as an Exercise Physiologist in a clinical setting allows me to further connect with my clients and help them to realise their health goals which is ultimately much more rewarding to me.
 What are your Ninja Exercise Physiology skills?

Clinically, I am always learning and am happy being a sponge.
My ninja skills are primarily in being able to develop a quick rapport with clients and building trust and confidence in their movement and bodies again. I love the outpouring of relief, wonderment and excitement in seeing clients undertaking activities they were once resigned to never performing again!
With all my Rehab Consultant and IMA experience over the last 12 years, I am pretty ninja at managing a wide and varied portfolio of injuries and illness' across physical and mental health fields.
🐱‍👤Neville the Exercise Physiologist:
Do you exercise?
I do exercise!
Having 2 children under 5 provides plenty of incidental exercise, although I typically like to mix my physical activity between road running, gym-based resistance training and high-intensity interval training. I try really hard to meet the WHO guidelines on physical activity, but sometimes life does get in the way.
 Tell us about your most inspirational client…
She was a paediatric client with Williams Syndrome.
The client was the most motivated, thankful and engaged client that I have had the pleasure of working with. A bilateral hip replacement in your teens is no fun, but her enthusiasm was completely infectious!
Favourites
Food –  A treat food for me is the Ready Salted chip. I've tried all the other flavours and cannot stand them (perhaps with the exception of the traditional i.e. chicken, salt and vinegar, sour-cream and chives). A ready salted chip, maybe with a French onion dip (if the Rugby is on…)
Exercise –   High-intensity interval training – I like to get in, get it done and get out. Big rush of endorphins and ready to meet the next challenge.
Have you learnt anything new recently?

I like to tinker. I recently changed the engine in my motorcycle after making a fairly substantial mistake first time around. Not sure what the moral is…either keep trying to you succeed, or don't be afraid to admit your weaknesses and get help when required (in this case a mechanic!)
Do you have a life outside of Exercise Physiology?
Busy family life and trying to enjoy our recent sea-change to the NSW South Coast!
What are your goals for The Rest of 2020?
Settle into Gerringong, join a social club or two and continue on my clinical development journey!