Specialised Health, Behind the Scenes. Who is Specialised Health?
The culture of progression, passion and authenticity behind Specialised Health drives all of us to provide quality Exercise Physiology services in the compensable space. We support claimants in achieving their return to work and life goals through specialist exercise and lifestyle prescription while recognising the importance of open communication with all parties involved in the rehab process. We share knowledge with a passion and are made up of exceptional individuals. 
STAFF SPOTLIGHT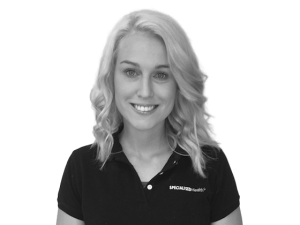 Lauren Teitzel 
QLD Team Leader 
            Actually born and bred on the Gold Coast, Lauren is now in Wellington, NZ. Lauren has a Bachelor of Sport and Exercise, a Post Graduate Diploma in Sport and Exercise, as well as a Bachelor of Business (Sport & Event Management) and ISAK Level I Anthropometry Accreditation.
Her Exercise Physiology career began working in a privately-owned clinical exercise physiology lab with lots of high-tech clinical exercise testing as well as the usual delivery of exercise rehabilitation programs, return to work programs, group exercise classes and lifestyle education for various health conditions. She's helped people with metabolic, respiratory, autoimmune, neurological, cardiovascular and mental health related conditions as well as cancer recovery patients, musculoskeletal dysfunction and chronic pain.
Over the last year she's been working more in the occupational rehabilitation and work conditioning space.
Other achievements:
Junior Australian Tennis Representative
Winner- Regional Australian Tennis Age Title  
Why did you choose the Exercise Physiologist career path?
My exercise-related career began due to my love of sport and exercise, having competed as an elite tennis player for many years. After completing my fitness certificates, I moved to London for an Overseas Experience! I ran individual and group exercise sessions at a local gym.
Whilst I LOVED what I was doing, I didn't feel like I had the necessary level of knowledge or skill to help those that approached me with chronic and debilitating issues such as musculoskeletal pain, heart and lung issues. After doing my own research and learning, I discovered that exercise truly is medicine, and, that with the right delivery and approach, can be used for the prevention, management and rehabilitation of chronic conditions, diseases and injuries.
So, Upon returning home, I headed back to uni (3 years already done, with now another 4 to go!!) to complete a degree in Exercise Physiology. Since completing this degree I have never looked back, and have gained an incredible passion for helping people improve their health, physical functioning and quality of life through exercise and lifestyle changes.
What are your Ninja Exercise Physiology skills?
It's rewarding seeing the impact exercise, support and lifestyle changes can make for these people
I'm really enjoying more focus in the work conditioning space. I enjoy working in a team to get the best outcomes, in this space with case managers, OTs and rehab providers. It's rewarding seeing the improvements of physical and mental function in clients, knowing I've made an impact, particularly when they get back to a normal life!
Balance and falls prevention for the elderly
Nothing makes me happier than seeing my older clients increase their functional capacity and be able to complete tasks that they were not able to easily and safely do before, such as playing with their grandchildren, gardening and having the confidence to take their dog for a walk around the block.
There are simple exercises that you can do to improve balance and prevent a fall. Here are a few tips..
Reduce the size of the contact area of your feet on the ground. For example, stand with feet close together or stand on one foot.
Reduce the amount of sensory feedback being sent to the brain. For example close one or both eyes.
Work on improving flexibility of the lower body to allow joints to move through their full range of motion.
Do you exercise?
I do! I always start and finish my day with a 30 min walk in nature with my dog. In addition to that, I love to mix up my exercise routine daily. I play tennis 1-2 times a week. Before the lockdown I was doing 3-4 F45 classes a week, the odd CrossFit workout here and there and I have just started doing some yoga.

Tell us about your most inspirational client
2 years ago I met with a new client 'Kate'.
Kate presented with severe anxiety and depression, and had been off work for 3 months as a result.
Her anxiety was so severe that her husband accompanied her to our initial assessment, and did the majority of speaking on her behalf as Kate struggled to engage with people due to her anxiety. Her husband explained that Kate felt fatigued and unmotivated, often unable to get out of bed. She needed help showering and was unable to cook or clean. Kate told me that she 'hated' exercise, and did not see the value in it. She reported only being able to manage a slow-paced, 10 min walk
I saw Kate for an exercise program 3 times a week, for a period of 18 weeks. Over this time, Kate's energy and mood increased, and sleep patterns improved. She regained her self-confidence and motivation.
Kate returned back to work on a part-time basis after 8 weeks, and was back full-time after 16 weeks. Kate self admittedly 'fell in love with exercise', during this time and said that it helped provide structure and purpose back into her life.
Exercise now continues to be a part of Kate's daily routine, as she recognises the important role it plays in managing her mental health.
Do you have a life outside of Exercise Physiology?
Yes! My partner and I have been DIY renovating our home for the last 2 years, which has taken up most of our free time (and money!). But on a free weekend you will find me skiing (in the winter), camping (in the summer), on a hike with my dog, doing a sudoku puzzle or travelling back to the Gold Coast to see my family and friends.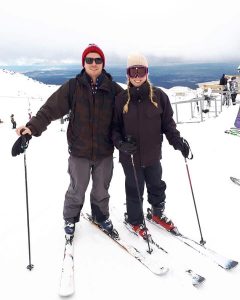 Favourites
Food –  Scorched almonds!
Exercise – Playing tennis- it is my happy place
Fact –  Regular exercise increases the volume of the hippocampus. The hippocampus is the memory centre of the brain. It helps us to process and retrieve memory and is also where short-term memories are turned into long-term memories!
Fiction – The Lion King
Myth Buster  –  "The more you sweat, the more calories you burn."
Sweat is how your body cools itself down. It doesn't equate to calories burned.
Have you learnt anything new recently?
Since being in lockdown for the last couple of weeks, I have learnt that you do not need equipment (or a gym!) to have a good workout. Improvise! I can assure you, you have everything you need to do whatever exercise you want! Things I have used recently: a blanket hung over the washing line for battle rope power slams, a clothes basket full of washing to overhead press, a small child on my shoulders for reverse lunges, my driveway for bear crawls.
Of course without equipment , it's less controllable and slightly restricted for rehab but a lot better than nothing, and can still make a decent difference!"
What are your goals for 2020?
To complete at least 2 books (I am not generally a reader!)
To complete our house renovations
To upskill in the areas of chronic fatigue, diabetes and hydrotherapy

Contact
Lauren@specialisedhealth.nz
Linked In